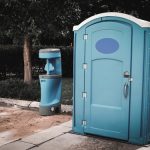 Whether you are organizing a music festival, a sporting event, or a camping trip, providing adequate restroom facilities is essential. Porta potties, also known as portable toilets, are a popular choice for such events due to their convenience and portability. However, with heavy usage over multiple days, it becomes even more crucial to keep them clean and well-maintained. In this blog post, we will discuss some effective strategies for ensuring hygiene and cleanliness in porta potties during multi-day events.
1. Start with Proper Placement
The first step in maintaining clean porta potties is to ensure they are strategically placed. Analyze the event layout and consider factors such as foot traffic, ease of access, and proximity to important areas like food vendors and stages. Position the toilets in a way that makes them easily visible and readily available to attendees. This will minimize the chances of portable toilets being neglected or misused.
2. Increase the Number of Units
One of the most common mistakes made during multi-day events is not providing an adequate number of porta potties. Insufficient facilities lead to overcrowding, longer lines, and unsanitary conditions. To avoid this, determine the number of attendees and use industry standards to calculate the appropriate ratio of portable toilets per person. It is always better to err on the side of caution and have a surplus of units available.
3. Regular Cleaning and Servicing
Regular cleaning and servicing of porta potties are crucial for maintaining hygiene and preventing unpleasant odors. Hire a professional cleaning service to empty and sanitize the toilets at least once a day, especially during events with larger crowds. This will ensure that the units are clean and ready for use throughout the event.
4. Stock Up on Supplies
Keeping porta potties well-stocked with essential supplies is another vital aspect of cleanliness. Make sure to provide an ample supply of toilet paper, hand sanitizer, soap, and trash bags. Regularly check the units and restock supplies as needed. Additionally, consider placing signs inside the units reminding attendees to be mindful of their usage and to report any supply shortages to event staff promptly.
5. Implement a Trash Management System
Proper trash management is crucial for maintaining cleanliness around the porta potties. Place designated trash cans near each portable toilet and ensure they are emptied regularly. Avoid overfilling the trash cans, as this can lead to overflow and attract pests. Assign staff to continually monitor and maintain the cleanliness of the area surrounding the porta potties.
6. Encourage Proper Usage
Educating attendees on the proper usage of porta potties is essential. Place informative signs both inside and outside the units, reminding users to flush after each use, not to dispose of inappropriate materials, and to keep the toilets as clean as possible. Encourage attendees to report any issues they encounter so that they can be promptly addressed. A little awareness can go a long way in maintaining the cleanliness of porta potties.
7. Hire Attendants
Consider hiring attendants to oversee the porta potties during the event. Attendants can ensure that the units remain well-maintained, continuously stocked with supplies, and promptly cleaned when needed. They can also act as a point of contact for attendees who have issues or concerns. Having attendants on-site helps in preventing misuse and resolving problems before they escalate.
Conclusion
Keeping porta potties clean during multi-day events requires careful planning and diligent execution. By strategically placing the units, increasing their number, implementing regular cleaning and servicing, stocking up on supplies, implementing a trash management system, encouraging proper usage, and hiring attendants, event organizers can ensure that their portable toilets remain clean and hygienic throughout the event. Remember, a clean environment contributes to a positive attendee experience and reflects well on event organizers.
Got Questions? Let Us Help!
Welcome to Sharps Sanitation! Sharps Sanitation has been in business since 1964, serving El Centro, California and the surrounding areas for over 50 years. We specialize in portable toilet rentals for any occasion, septic tank pumping, RV tank pumping, and portable toilet pumping. With more than 40 years of experience in the industry, Sharps Sanitation is a company that you can trust to get the job done right. We pride ourselves on our competitive pricing and being on time every time. We are family owned and operated and have been since the day we started. We are your one-stop shop for all of your portable toilet and septic needs. Give us a call today!
Categorised in: Portable Toilets