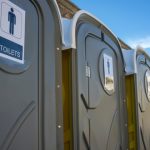 Hosting an event outdoors can be a lot of fun, but it also comes with its own challenges. One of them is ensuring that your guests have access to adequate sanitation facilities. Portable toilets are a convenient solution for outdoor events, but using them efficiently is crucial to avoid long lines and unpleasant experiences for your attendees. Here are five tips to help you make the most of your portable toilets and ensure a smooth experience for everyone.
1. Plan for an Adequate Number of Toilets
The first step in ensuring efficient portable toilet use is to determine the right number of units for your event. The general rule of thumb is to have one toilet for every 50 people for an event lasting less than 6 hours. If your event is longer or if you plan on serving alcohol, it is advisable to increase the number of units. Providing enough toilets will prevent long queues and frustration among your guests.
2. Strategically Place the Toilets
Once you have determined how many toilets you need, the next step is to strategically place them around your event space. Consider distributing them evenly and placing them near areas of high foot traffic, such as near stages, food vendors, and seating areas. By placing the toilets strategically, you can minimize the time guests spend searching for them, reducing congestion and lines.
3. Use Signage and Lighting
Signage is essential for directing guests to the toilets. Clear and visible signs can prevent confusion and save time. Make sure the signs are prominently placed along pathways and are easy to read from a distance. Additionally, lighting is crucial, especially for events that extend into the evening. Adequate lighting near the portable toilets will ensure that guests can find and use them comfortably, even in low-light conditions.
4. Maintain Cleanliness and Hygiene
No one wants to use a dirty or unpleasant toilet, so it is essential to keep the portable toilets clean throughout your event. Hire a company that provides regular cleaning and maintenance services for the units. They can restock toilet paper, clean the floors, and empty the waste tanks to ensure a pleasant experience for your guests. Additionally, consider placing hand sanitizing stations near the toilets to promote good hygiene practices.
5. Communicate Toilet Etiquette to Guests
To ensure efficient use of portable toilets, it is helpful to communicate basic toilet etiquette to your guests. Create signs or announcements reminding attendees to use the toilets responsibly and to dispose of waste properly. Encourage them to avoid throwing trash, such as paper towels or wet wipes, into the toilet, as it can cause clogs and other issues. Educating your guests about proper toilet use will help maintain the cleanliness and functionality of the units throughout the event.
Conclusion
Providing efficient portable toilet facilities for your outdoor event is crucial to ensure a positive experience for your attendees. By planning for an adequate number of toilets, strategically placing them, using signage and lighting, maintaining cleanliness, and communicating toilet etiquette, you can significantly enhance the overall effectiveness of your portable toilet setup. Remember, the comfort and satisfaction of your guests are paramount, and a well-designed and efficiently managed system of portable toilets can contribute greatly to the success of your event.
Got Questions? Let Us Help!
Welcome to Sharps Sanitation! Sharps Sanitation has been in business since 1964, serving El Centro, California and the surrounding areas for over 50 years. We specialize in portable toilet rentals for any occasion, septic tank pumping, RV tank pumping, and portable toilet pumping. With more than 40 years of experience in the industry, Sharps Sanitation is a company that you can trust to get the job done right. We pride ourselves on our competitive pricing and being on time every time. We are family owned and operated and have been since the day we started. We are your one-stop shop for all of your portable toilet and septic needs. Give us a call today!
Categorised in: Portable Toilets